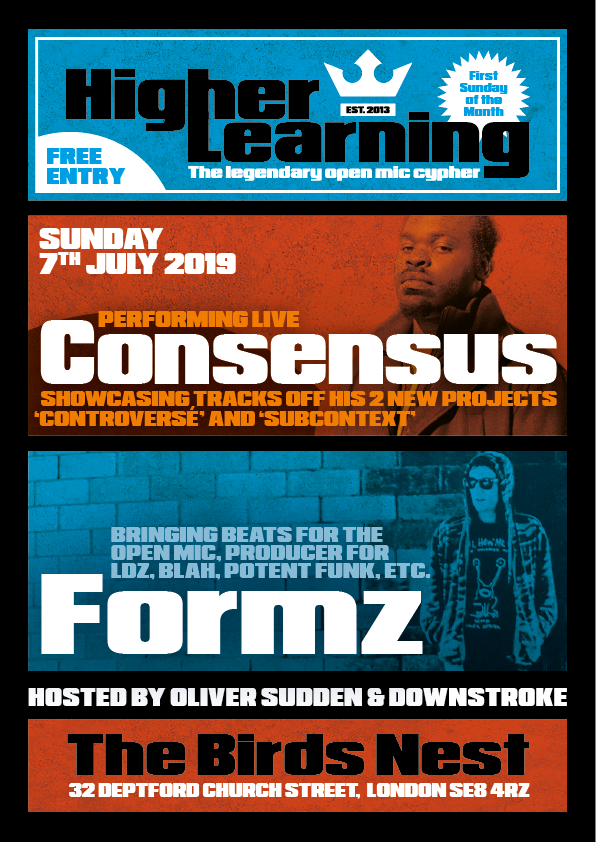 07/07/2019
21:00
The Birds Nest, Depford, London
Next Sunday!!! We're back at the Birds Nest with our monthly dose of realness and this time we're joined by original Higher Learning family member Consensus and on the beats we have Formz!
Consensus has repped HL from the beginning and has just released back to back, two amazing projects, 'Controversé' and 'Subcontext'. He's also been getting massive media coverage for schooling peeps on particle
physics with his album ConCerned, working alongside scientists from the CERN Institute.

Our guest producer Formz has also created an impressive catalogue, working with some of this countries leading MC's, crafting beats for LDZ, Lee Scott, Lyza, Bisk, Trellion and Sniff, Danny Lover as well as various other artists on the Blah and Potent Funk labels.As usual, we kick off around 7.30, and we open up the mics at 9.30. Downstroke on the wheels, Oliver Sudden hosting and Crossbone T on sound.